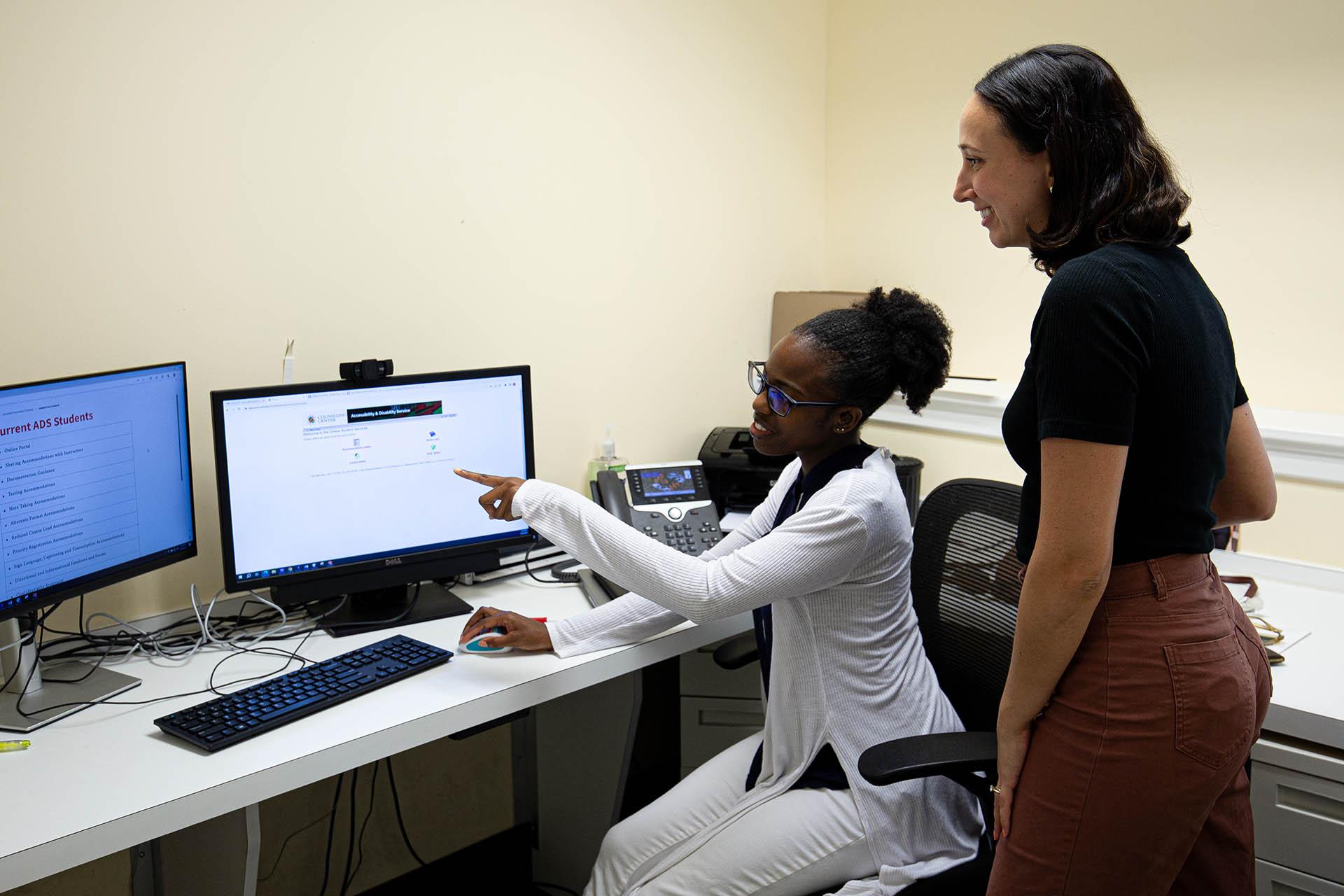 Figuring out college disability accommodations can seem like a lot, but please know we're here to support you. Our staff is ready to consult with you and answer any questions you may have about disability accommodations. 
If you're already registered with ADS, reach out directly to your assigned disability specialist for personalized support.
For new inquiries, feel free to contact our ADS Front Desk at 301-314-7682 or adsfrontdesk@umd.edu to schedule a virtual consultation appointment with a disability specialist. We look forward to assisting you with eligibility and reasonable accommodation options at the University of Maryland.
Consultation Services
We offer consultations to discuss using accommodations at UMD and answer any disability-related questions you may have at any stage – before your formal application or after admission to the University of Maryland.
Incoming First Year Students
Disability services work differently in college than in high school, and some accommodations that were appropriate in high school may not correlate with the university experience. We're here to guide you through the transition.
Incoming and Current Transfer Students
If you've used disability services at your previous institution, please keep in mind that accommodations don't automatically transfer to UMD from other higher education institutions. Additionally, our accommodations process, course design, teaching methods, and campus resources might be different from what you experienced before. As a result, disability accommodations may also vary. In the interactive process, our staff will engage with you to understand the impact of your disability fully.
Prospective, Incoming, and Current Graduate Students
Our team understands that reasonable accommodations in graduate programs can vary, covering areas like academic coursework, assistantships, exams, fieldwork, clinicals, and research. What works well in one context might need adjustment in another. You are welcome to meet with us to explore our services and discuss any disability-related questions.
Veterans
We understand that your learning needs may have evolved after your military service or that you may have acquired a physical or medical condition during your time in the service which now may impact your access needs. If you're entering or returning to college, you may be eligible for accommodations through ADS. Registering with ADS is completely voluntary and your information will remain strictly confidential.
International Students
If you are an international student with a disability, you might be unfamiliar with the disability laws and services available in the United States. Our disability specialists can speak with you about any limitations you face and explore your experience with disability services in your home country. While we can't diagnose or treat disabilities, we can consult with you and make referrals to appropriate providers when needed.