Directions & Parking
The Accessibility and Disability Service office is located on the basement level of the Shoemaker Building. You can find the Shoemaker Building situated behind the Memorial Chapel.
ADS Address
4281 Chapel Drive  
0106 Shoemaker Building  
College Park, MD 20742
Mowatt Lane Parking Garage Address
Mowatt Lane Parking Garage    
7591 Mowatt Lane    
College Park, MD 20742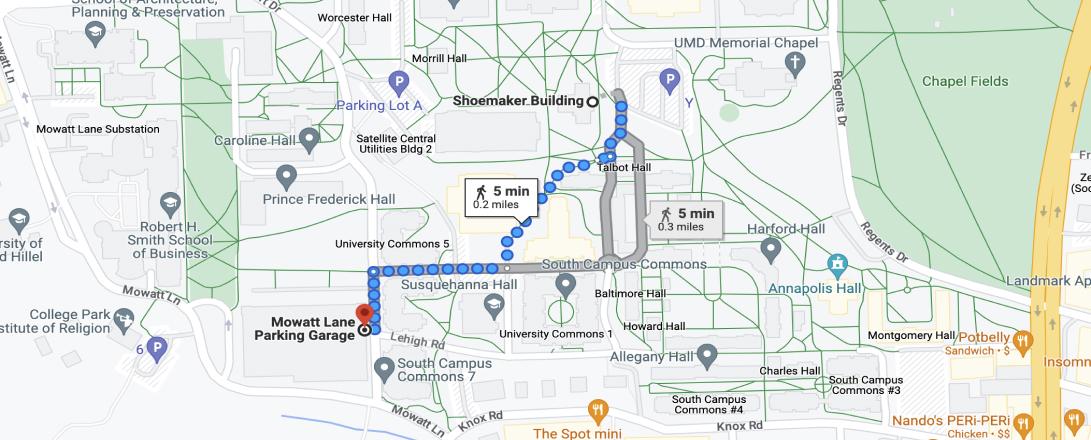 Visitor Parking
For those meeting with us, designated visitor parking areas are available on UMD's campus. The nearest visitor parking to the Shoemaker Building is at the Mowatt Lane Parking Garage and Lot MV. We recommend arriving a bit early to find parking and walk to our office.
The Mowatt Lane Parking Garage has metered visitor parking on the first floor and a parking lot right next to it. The garage is about a ten-minute walk from the Shoemaker Building. Limited parking is also available near Memorial Chapel but with a 20-minute maximum limit. Please keep in mind that visitor parking comes with a fee. 
For visitor parking maps or information about parking fees, please visit the Department of Transportation (DOTS) website.
Accessible/Handicap Parking Information for Visitors
If you require accessible/handicap parking, there are limited spaces adjacent to Lot Y in front of the Shoemaker Building, as well as along Chapel Drive. State-issued placards allow you to park in an accessible space without a University of Maryland parking pass.
For additional information about accessible/handicap parking on campus, please visit the Department of Transportation Services (DOTS) Parking Guidelines web page.
Interactive Campus Map
To help you navigate campus, we suggest using the interactive campus map of the University of Maryland. The campus map is updated daily to reflect any construction on campus that may impact the path of travel.
The "Directions" feature allows you to select "Accessible Pathways," which will direct you to your location using only accessible routes. The "Directions" feature is particularly useful for getting walking directions during your time on campus.