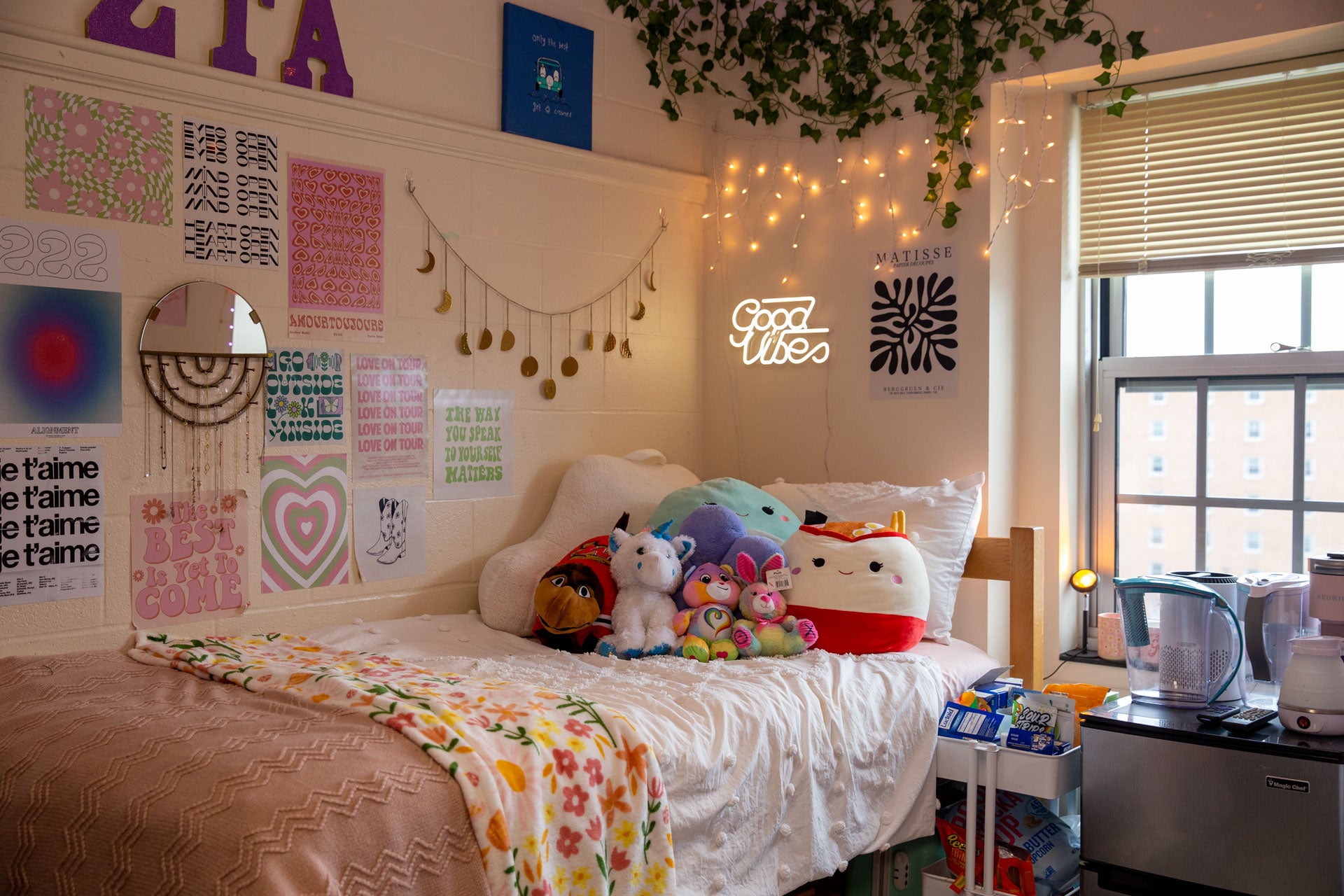 We believe that living on campus and sharing a space with others is a unique part of the college experience. 
Our accommodated housing process, in partnership with the Department of Resident Life, is designed to provide an inclusive residential community for students with disabilities. Whether it's a physical adaptation to your assigned residence hall room or other requirement, we're here to ensure your housing experience is comfortable and accessible.
For First Time Residence Hall Applicants
June 30: Deadline for fall admission requests 
December 1: Deadline for spring admission requests
For Returning Residence Hall Students With Approved Accommodations
February 26: Deadline to apply for housing for the 2024-2025 academic year
For Current Residence Hall Students Requesting Accommodations for the First Time
ADS will review accommodated housing requests for students currently living within the residence halls as they are received.
Please note: All accommodated housing requests are reviewed in the order they are received.
Advanced notice of accommodated housing requests by the above stated deadlines ensures that any approved accommodation can be facilitated prior to move-in.
Any requests received after the above deadlines cannot be guaranteed they will be implemented prior to the assigned move-in date. The Department of Resident Life will continue to work with students on the reassignment process as housing space and inventory allow.
Requesting Housing Accommodations for the First Time
If you're requesting accommodations for the first time, register with ADS and follow the process explained on our website.
Returning to Residence Halls With Approved Accommodations
ADS and the Department of Resident Life keep a record of all previously granted housing accommodations. As a result, the approved housing accommodation will be applicable as long as the student resides within an on-campus residence hall. Students who wish to update their disability housing accommodations will need to re-engage with their disability specialist directly.
Department of Resident Life staff will contact all students via email who have an approved housing accommodation to determine the following:
Do you wish to live within a residence hall for the next academic year?
Will you continue using the approved accommodation next academic year?
Do you want to remain in the exact same residence hall and room next academic year or relocate to a new assignment that incorporates the approved accommodations?
Please note: Failure to respond and engage with Department of Residence Life staff regarding the continued need for housing accommodations may impact the housing assignment process.
Updating Housing Accommodations
We acknowledge that students may need to update their approved accommodation during their time at UMD, including those related to the housing environment. If you have previously been approved for disability related housing accommodations, and need to make modifications or adjustments to your accommodated housing plan, please contact your disability specialist. They will assist you in updating your approved accommodated housing plan.
Housing Accommodations within Off-Campus/ Non-Department of Resident Life Facilities
ADS and the Department of Resident Life are unable to facilitate housing accommodations for off-campus/non-Department of Resident Life residence halls. Any University student (both graduate and undergraduate) who are not residing within a Department of Resident Life residence hall facility and wish to establish accommodations in their apartment/living environment are encouraged to speak with the management of the leasing office within the apartment complex and/or individual landlord.